Here at Greenbox Removals, we don't mind working on Saturdays. So when Jennie wanted to move last Saturday we were more than happy to help with her flat move in Leeds.
Once again we had an excellent client. Jennie had everything so well prepared in her apartment in LS12 that it made our life very easy. She even got a photo of us loading up and posted it on Instagram (resulting in someone else contacting me through Instagram that very evening!)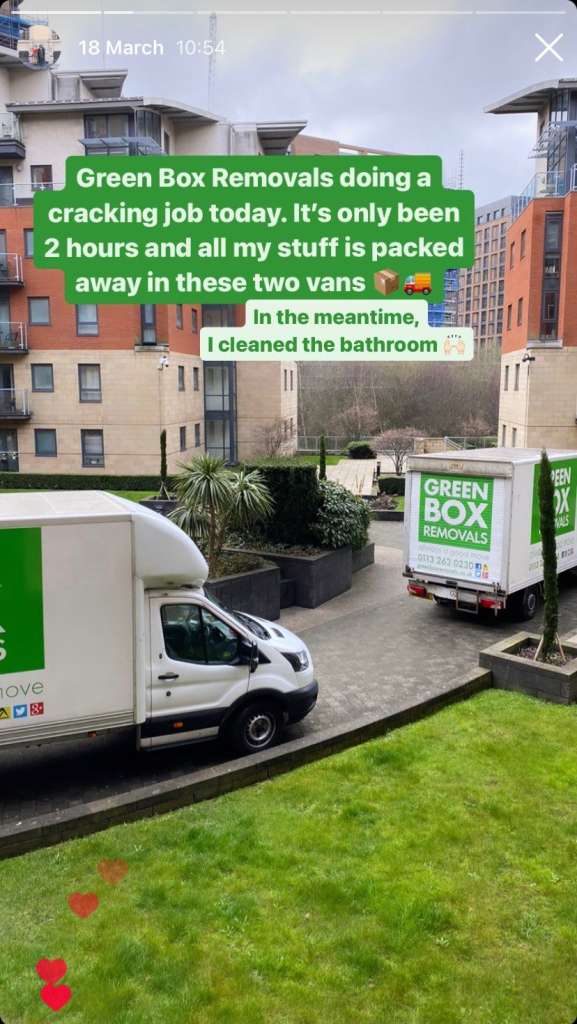 We moved Jennie's stuff across town to Moortown. And what a place she was moving into with her partner, Adrian- an ace space in an old Grosvenor Casino. The very quirky building had a lot of character, with the duplex we moved them into being a wonderful bright space with balconies and sun tunnels, and unusually wonky bay windows. It was a delight, and absolutely perfect for Jennie's many plants.
Whilst we were carrying out the lifting and shifting of the furniture and boxes for the flat move, Jennie and Adrian were busy as bees unpacking and positioning furniture. It was great to see how well all the furniture resided in their new flat. By the time we had got the last item in they had really turned it into a home. So we said 'Goodbye', wishing them the best.
However, it wasn't long until we were saying 'Hello,' again. Adrian still needed to get his belongings over from another apartment and something had gone wrong with a van he was supposed to be hiring. So we were more than happy to assist and finish the second flat move in Leeds this week.