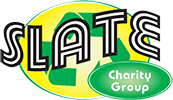 Another drop to SLATE in Armley, this time with a van load of unwanted furniture donated very kindly by Unipol Student Homes.
SLATE is a wonderful charity who offer working opportunities to adults with learning difficulties. It's always a pleasure to drop off furniture with them as you can see the good work they are doing and they're always so grateful for any donations.
And, as well as assisting people into work, they offer their goods at a very reasonable price for customers who are looking for (or need) a bargain.